13/8/22, 12:00 PM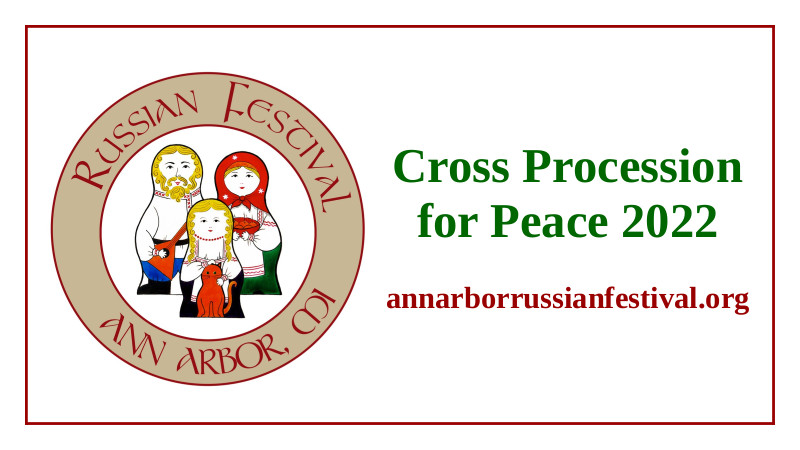 On the Saturday that we had originally scheduled our Russian Festival for this year (Saturday, September 17) we will hold a Cross Procession and prayers for peace in Ukraine. There are two options to participate in this action for peace:
1. Join our Cross Procession that day. All are welcome, but there will be no politics AT ALL. We will walk and pray together under the protection of the Cross according to the established Orthodox tradition, asking the Lord to grant peace in Ukraine. The procession begins at 10:00 a.m. More information and a sign up can be found at the link below. Please sign up if you intend to participate. This helps us plan first aid, water, and other necessary material things to make sure all can participate safely:
SIGN UP - CROSS PROCESSION FOR PEACE
2. Join us for our special prayer service (moleben) for peace after the Cross Procession at St. Vladimirís. All are welcome, but there will be no politics AT ALL. We are interested only in the Lordís help Ė because clearly only the Lord can stop the war, and human wisdom has done nothing positive in this regard thus far. The special prayer for peace will take place at St. Vladimirís about 1:00 p.m. That is, when the Cross Procession ends. Doors will be open beginning at 12:00 p.m. for those who would like to pray quietly in the church and wait for the Cross Procession to return.
Even if you cannot join us, please read this prayer for peace in Ukraine and America at 1:00 p.m. that day Ė this is about the time we will be reading this same prayer at St. Vladimirís:
PRAYER FOR PEACE IN UKRAINE & AMERICA